On March 2nd, 2009. AIG announced that it had lost a staggering $60 billion dollars in the fourth quarter alone, the largest quarterly loss in corporate history. Markets around the world plummeted on the news. Most of the losses were in payouts for bad credit-related bets. But hold on. A $60 billion loss is someone else's $60 billion gain. So who were the lucky winners? Shockingly, it turned out to be the very same banks receiving bailout money from the government. These banks, including Goldman Sachs, Morgan Stanley, and Citigroup, were now taking taxpayer money and calling it revenue! If AIG had failed, the banks wouldn't have seen a dime of these payments.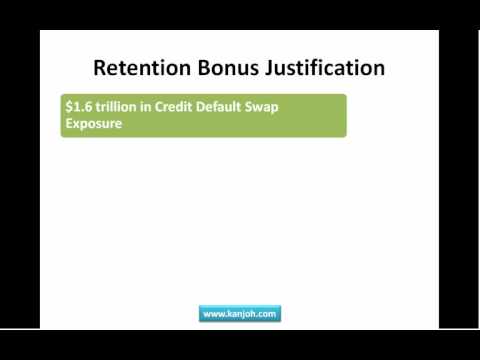 In many ways, AIG has become the poster child of our broken financial system. I fully agree that many executives at AIG should be held accountable. But one person who has received a lot of undeserved hatred is AIG CEO Edward Liddy. Liddy came under major fire for paying out retention bonuses to AIG employees in March of 2009. But lets clarify a few facts. First of all, Mr. Liddy had nothing to do with AIG's current mess. Before AIG, he was the Chairman and CEO of AllState, an insurance company with a very solid track record. Liddy only started working for AIG in June 2008, well after the damage had been done. He came out of retirement at the request of the U.S. Government. His salary is $1 a year according to his paystub. Edward Liddy is not doing this for the money; he's trying to save AIG out of service to his country.
Many people were furious about the retention bonuses. I admit it does seem unfair to pay people millions of dollars when their company is essentially bankrupt. I was initially appalled myself, but I wanted to find out the facts. So I spent several hours watching Liddy's Congressional hearing on the topic. As I listened, I realized that the bonuses, terrible as they seem, actually make sense for the American taxpayer.
To understand this, lets first look into AIG as a company. AIG's big risk right now is a large book of Credit Default Swaps, estimated at $1.6 trillion in potential exposure. While this is a huge number, it is actually down from $2.7 trillion from several months ago. When Liddy first took over as CEO, he quickly realized that reducing AIG's exposure to these risky assets was the top priority. But this was a huge task, and was not specified in anyone's job description. So to motivate his employees, he created a bonus structure. The bonuses were paid to reward employees for reducing risk to the American taxpayer. It makes sense for AIG to try to keep people who have done a good job at this, and will continue to reduce risk over time. As a taxpayer, I would rather lose $250 million in bonuses than $250 billion in AIG equity.
I admit there were also some bonus payments unrelated to reducing risk. But these were pre-negotiated contracts, before Liddy's tenure as CEO. These contracts guaranteed bonus payments regardless of performance. Liddy himself said that the contracts were terribly designed. But he made it clear that they were legally binding, and it was his legal obligation to honor them.
Another thing: The financial media coverage on the bonus issue has been absolutely disgusting. Instead of educating people, journalists and broadcasters sensationalized the event. Journalistic integrity is about giving people the facts, not about blowing it out of proportion for ratings. This is especially true when hundreds of billions of taxpayer dollars are on the line.