After Barack Obama was elected, people around the world anxiously awaited the President-elect's solution to the financial turmoil. The first major decision was choosing a new Secretary of Treasury to replace the outgoing Hank Paulsson.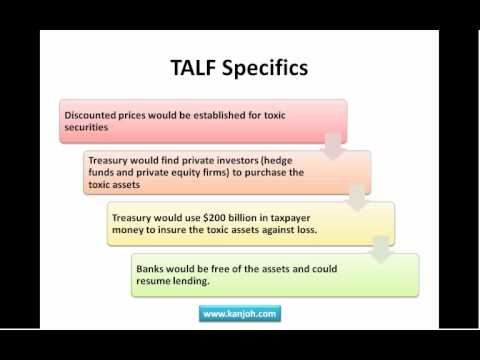 Several candidates were rumored to be on the list, including Jamie Dimon, CEO of J.P. Morgan Chase, Larry Summers, former President of Harvard University and Secretary of Treasury under President Clinton, and legendary investor Warren Buffett. After a few weeks of deliberation, Obama announced on November 21st, 2008, that Tim Geithner, head of the Federal Reserve Bank of New York, would be the new Secretary of the Treasury.
The announcement was initially applauded by investors. Markets around the world soared on the news. Many investors believed that the original TARP plan had not been effective and additional action was needed. Geithner, a public official who had focused on macroeconomic issues for the majority of his career, was now tasked with finding a solution.
Geithner spent the next few months designing a new program called TALF. TALF was originally announced on November 25th, 2008, and would focus on removing toxic assets through a series of public-private partnerships. The specifics of the plan, announced in March of 2009, revealed an extremely ambitious agenda. Private companies, including hedge funds, would be encouraged to purchase the bad assets from the banks at a predetermined, discounted rate. In addition, the Treasury would use up to $200 Billion to provide insurance against some of these toxic defaults.
The days leading up to Geithner's announcement were some of the most pessimistic the stock market had even seen. But investors rallied around the plan, sending stocks up more than 7% the day of the unveiling. Nevertheless, many economists were skeptical. The plan seemed very unfair to the taxpayer. It was structured in a way that if the purchased assets proved profitable, the investors would reap financial rewards. But if the assets' value went south, the taxpayers would take the beating. In effect, Geithner had transferred the risk from the banks to the wallet of the American taxpayer.
Regardless of its flaws, the plan has certainly instilled hope in the financial markets. Geithner's legacy hinges on its success.