This is the first in a series of videos on risk. Every investment carries risk, but the risk often takes different forms.
An asset is considered liquid when it can be easily bought or sold at its true value in a short period of time. Liquidity risk is the risk that you can't sell something at its true worth.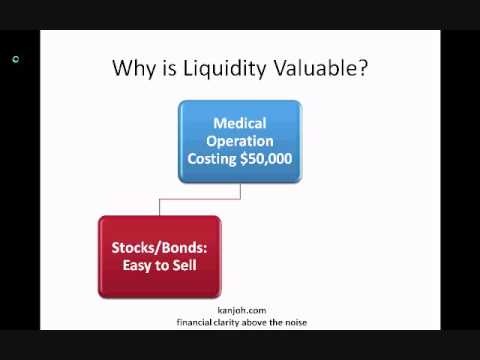 Both stocks and bonds are considered liquid assets. Every day, people buy and sell these securities on stock exchanges around the world. Real estate, on the other hand, is an example of an illiquid asset. It takes weeks, if not months, to buy or sell a piece of property.
Why is liquidity a good thing? Liquidity is valuable because it provides flexibility in a world of uncertainty. Lets say that John needs a medical operation that will cost him $50,000 out of pocket. If John owned $50,000 in bonds, he could sell them tomorrow on the bond market, and pay for his operation in full. But lets say that instead, John owns a $50,000 beachhouse. He can't sell the house overnight to pay his hospital bill. Instead, he may need to borrow the money at a high interest rate, or forgo the operation until some later date. Clearly, the $50,000 in bonds is more valuable in this scenario.
This video goes through this example and clearly shows why liquidity risk is something to consider in your portfolio and your investment decisions.