We're currently in the longest recession (19 straight months) since the Great Depression. But what exactly is a recession? What are the major causes, and what are the potential effects on your life?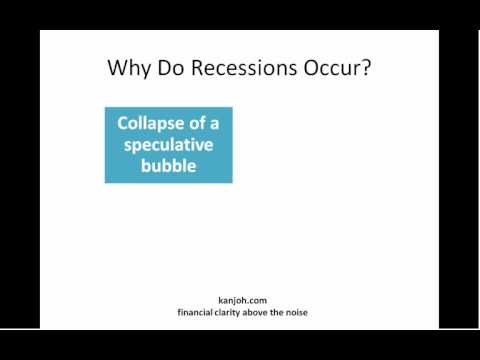 A recession is defined as two consecutive quarters of negative economic growth. Economic growth is typically measured in GDP, or Gross Domestic Product. GDP is defined as the aggregate goods and services that a country produces in a given year. These goods and services include everything from toothpaste to financial services.  Basically, a country is in recession when it experiences a prolonged decline in economic production.
Why do recessions occur? This is actually a fairly complex question, but there are two major possibilities.
The first possibility is the collapse of a speculative bubble (to learn more about speculative bubbles, please see my earlier post). The years leading up to the current crisis saw tremendous growth in the financial and real estate industries. Eventually, people realized that these asset classes were overvalued, leading to a sharp contraction. The resulting decline in production quickly led to a severe recession.
The second major cause of a recession is hyperinflation. Hyperinflation (defined as the rapid increase in cost of goods and services) can quickly erode purchasing power. Stuff is more expensive, but people aren't earning more. So to make ends meet, they cut costs. In aggregate, this reduction in spending can lead to an economic contraction, resulting in recession. This type of recession was last seen in the early 1980s.
Recessions can have serious repercussions on your life. Companies often try to reduce headcount, and salaries and bonuses may be greatly reduced. Be prepared to cut your spending. Ideally, you should have cash saved to tide you through a recession. You should try not to sell investments to pay for living expenses; chances are you'll have to take a hefty loss and when things improve, you will miss out on the upside.
A prolonged recession is often called an economic depression. There is no universal definition for depression, but it is generally viewed as a severe negative spiral that requires external stimulus and causes long-term damage to individuals and the economy as a whole. During the Great Depression, unemployment peaked at 25% and GDP contracted by more than 10%.