This is part of a series of videos on different asset classes. Bonds are one of the fundamental building blocks in any portfolio.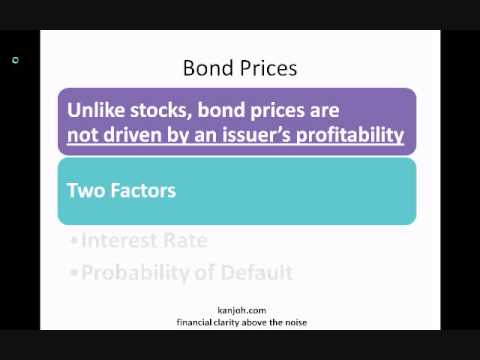 A bond is nothing but a fancy word for a loan. The size of the loan is called the principal. At a minimum, the bond will specify the dollar amount of the principal, the interest rate, and the terms of repayment. For example, a bond might have a $10,000 principal, a 6% interest rate, and a repayment period of 10 years. But remember, these are the bare minimum specifications; bonds can get a lot more complex than this.
So who is borrowing the money? Corporations need to borrow money to fund growth. Governments also need to borrow money to fund public programs. Corporations and governments borrow this money by issuing bonds, and thus become "bond issuers." The buyers of these bonds are now lenders to the corporation or government entity, and are called "bond holders."  In return for the loan, the bond issuer will pay the bond holder the principal, plus interest, at some predetermined point in the future.